Description
Tiaki Manuka Honey UMF 20+ (500g) – Best Quality Premium New Zealand Mānuka honey.
Tiaki Manuka Honey UMF 20+ is our premium Manuka honey that is produced from our own bee hives located on the North Island of New Zealand.
At Tiaki Honey 57 Years of Beekeeping Experience – Every batch of our unpasteurized, unblended raw honey is continuously tested to guarantee the best possible quality of UMF levels.
We provide only the highest quality Manuka honey that is creamed to perfection providing you with a rich, velvety taste and smooth texture.
Our TIAKI Manuka honey is certified by Unique Manuka Factor Honey Association (UMFHA). The UMF grading system appraises natural markers found in Manuka Honey and assures purity and quality.
Interesting Honey Bee Facts
Did you know that a Bee's diet consists of honey and pollen? Honey and pollen are the building blocks of a bee's diet. Bees eat honey because it provides them with energy-laden carbohydrates, while pollen's protein provides bees with essential amino acids.
Manuka honey is a type of honey that is native to New Zealand and made from the nectar of the Manuka tree. This honey is known for its antibacterial properties, which are due to the high levels of methylglyoxal (MGO) present in the honey. MGO is a naturally occurring compound that is found in high concentrations in Manuka honey, making it a potent antimicrobial agent.
Health Benefits of Tiaki Manuka Honey
Manuka honey has been used for centuries for its health benefits. It's believed to help with wound healing, digestive issues, and even oral health. Here are just a few of the many benefits of Manuka honey:
Antimicrobial Properties: The high levels of MGO in Manuka honey give it powerful antibacterial properties, making it effective against a wide range of bacteria, including those that are resistant to antibiotics.
Wound Healing: Manuka honey has been shown to promote wound healing and reduce inflammation, making it an excellent choice for treating burns, cuts, and other types of wounds. •
Digestive Health: Manuka honey can help soothe and heal digestive issues such as acid reflux, gastritis, and stomach ulcers. Its antibacterial properties can also help balance the gut microbiome, improving overall digestive health.
Oral Health: Manuka honey has been shown to be effective against harmful oral bacteria, making it a great natural remedy for gum disease, tooth decay, and bad breath.
Tiaki Manuka Honey Usage
Tiaki Manuka honey is incredibly versatile and can be used in a variety of ways. Here are a few ideas to get you started:
As a natural sweetener: Manuka honey is a great alternative to refined sugar and can be used in place of sugar in baking and cooking.
As a skin treatment: Manuka honey can be applied topically to the skin to promote wound healing, reduce inflammation, and soothe skin irritations.
As a digestive aid: Add a spoonful of Manuka honey to warm water or tea to soothe digestive issues.
As an oral care product: Use Manuka honey as a natural mouthwash or toothpaste to promote oral health.
Why Choose Our Tiaki Manuka Honey?
Our Tiaki Manuka honey is sourced from the pristine forests of New Zealand and is carefully tested and certified for its unique antibacterial properties. So if you're looking for a natural way to boost your overall health and wellness, consider adding Manuka honey to your daily routine.
With its powerful antibacterial properties and wide range of health benefits, it's a great choice for anyone looking to improve their health naturally. Try our high-quality Tiaki Manuka honey today and experience the difference for yourself.
Ethical Honey Production
Tiaki Manuka Honey is sustainably sourced and harvested in an ethical way that preserves the natural environment of New Zealand and supports local communities.
Our honey is traceable from the hive to your jar and you can feel confident knowing exactly where your honey came from and how it was produced.
With every jar of Tiaki Manuka New Zealand Honey, you are not only indulging in a delicious treat but are also supporting sustainable and responsible beekeeping practices.
Ingredients:
100% Natural Pure Raw New Zealand Manuka Honey.
Manuka Honey Nutritional Facts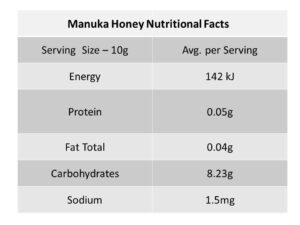 Tiaki Honey Storage:
Honey should not be chilled. Keeping your honey in the refrigerator preserves it but the cool temperatures will cause your honey to form a semi-solid mass, so this method of storage is not recommended.
Keep away from direct sunlight and store the jar upright in a cool, dry place. When stored correctly honey will never spoil, it may, however, change color (from clear to cloudy) or texture (thicker and grainier) over time.
Manuka Honey Rating System
For the best quality genuine Manuka Honey always look for the UMF-certified label.